The national winners at the annual British Security Awards 2019 have been announced
Organised by the British Security Industry Association (BSIA) and held at the London Grosvenor Marriott Hotel, the awards showcased the national finals of the security personnel categories, Bravery awards for cash in transit section, National and International Partnership, Innovative Security Project, SME and Business of the Year and Contribution to the Industry.
This year also saw the return of the prestigious BSIA Chairman's Award, which was presented by Simon Banks.
The awards were presented by journalist and broadcaster Jane Moore, with the Bravery Awards presented by Assistant Chief Constable of the West Midlands Police, Sarah Boycott. This was the first time in the history of the Association that the headline speakers were both female.
The winners of the British Security Awards 2019 were:
Lauren Summers (VSG) – Best Newcomer
Jim Mills (Project Vision – G4S) – Best Use of Technology
David Rutwaza (G4S) – Outstanding Act
Steve Allen (Westgrove Group) – Service to the Customer
Eurostar Security Team (Mitie) – Best Team
Sam Howard (EFT Systems) – Apprentice of the Year
Concept Smoke Screen (Sentinel Connect) – International Partnership
Selectamark Security Systems (SelectaDNA) – Innovative Security Project
The Security Institute & Volunteer Police Cadets – National Partnership
CSL Group – SME of the Year • Securitas UK – Business of the Year
Andy Gilmore (AAI Security Systems) – Contribution to the industry
Surrendra Chongbang (Loomis) – Bravery Award (Industry)
Krzysztof Gacki, Radu Brad, Domas Bagdonavicius  – Bravery Award (Public)
David Snook – BSIA Chairman's Award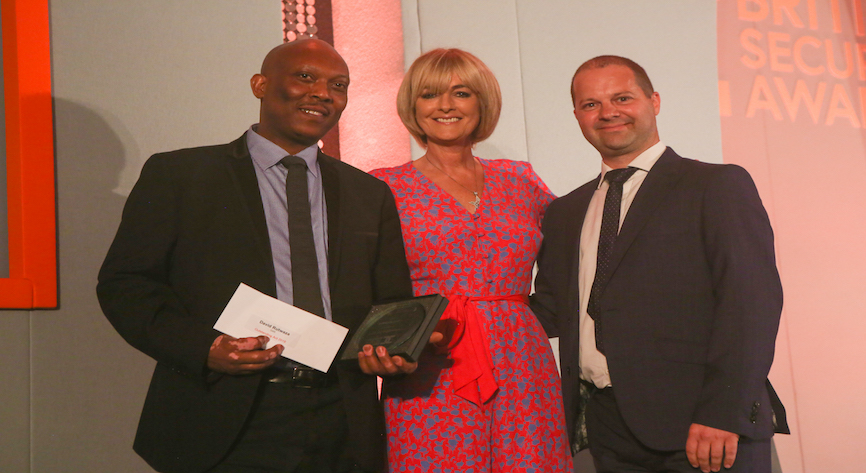 Chief Executive of the BSIA, Mike Reddington, said: "The British Security Awards is a major celebration in the security industry calendar that recognises the talent and commitment of our industry's finest.
"We have an industry fit to burst with positive ambassadors from within our sector; from young officers starting out to seasoned professionals – every one of them recognised today for having gone above and beyond expectations, demonstrating courage, innovation, customer service and contribution to the industry.
"Today's winners and finalists should be very proud of their achievements, as indeed both we and the industry they represent are in rewarding them today."
A full list of the winners and finalists, and a record of their achievements can be found on the British Security Awards website at